Eaux Claires IV
Photo Christopher Bartlett

——— Another year of Eaux Claires Music Festival, another year of experiments. We channeled our inner punk lo-fi jokesters, and took a shot of whiskey before belting out, "Yeah, there's no lineup. Trust us like you've trusted us the last three years." And while the world might not have been ready, the community of Eau Claire — Eaux Claires — welcomed us with open arms.


Photos Christopher Bartlett

——— We started in November — T-minus 8 months to the fest — with a guerrilla-style marketing campaign aimed at the community of Eau Claire. We designed and installed a 27' wide wheatepaste in downtown Eau Claire, where we knew it would be seen and inspected. We went live in Instagram to make sure the rest of the world knew. The two-part wheatepaste release advertised an Eaux Claires podcast, teasing specific artist and hyping the vibe of everyone's favorite summertime weekend. The next day, we released the dates of the fest.



Photos Christopher Bartlett

——— While advertising for festivals usually lives online, we made a point to speak to the community through Volume One, the Chippewa Valley's local magazine.


Art Direction Ann Kennedy + RT Vrieze
Photos Christopher Bartlett




——— The merch for the festival, which is produced and printed by Knorth's sister company, Ambient Inks, is a highlight of each fest. We kept with the lo-fi feel and introspective musings that is core to Eaux Claires' ideology.




——— The 'lineup tee' or rather the non-lineup tee (since there was no release of the artists participating until the day of the fest), had a beautiful writeup by the festival narrator and Eau Claire resident, Michael Perry on the back.




Merch Design Ann Kennedy, RT Vrieze, Daniel Wagner, + Joe Boettcher
Art Direction Ann Kennedy + RT Vrieze
Photos Nate Vrieze
Models Bex Morton, Anthony Clementi, Sheikh Jammeh, + Libby Andrego




——— We had the opportunity to design and install a custom stage with the House of Vans and stage designer Ben Krall, 100% wheatepasted over an existing stage frame.



Video Christopher Bartlett

——— This behemoth took 3 days to wheatepaste and install before the festival.



Video Scott Kunkel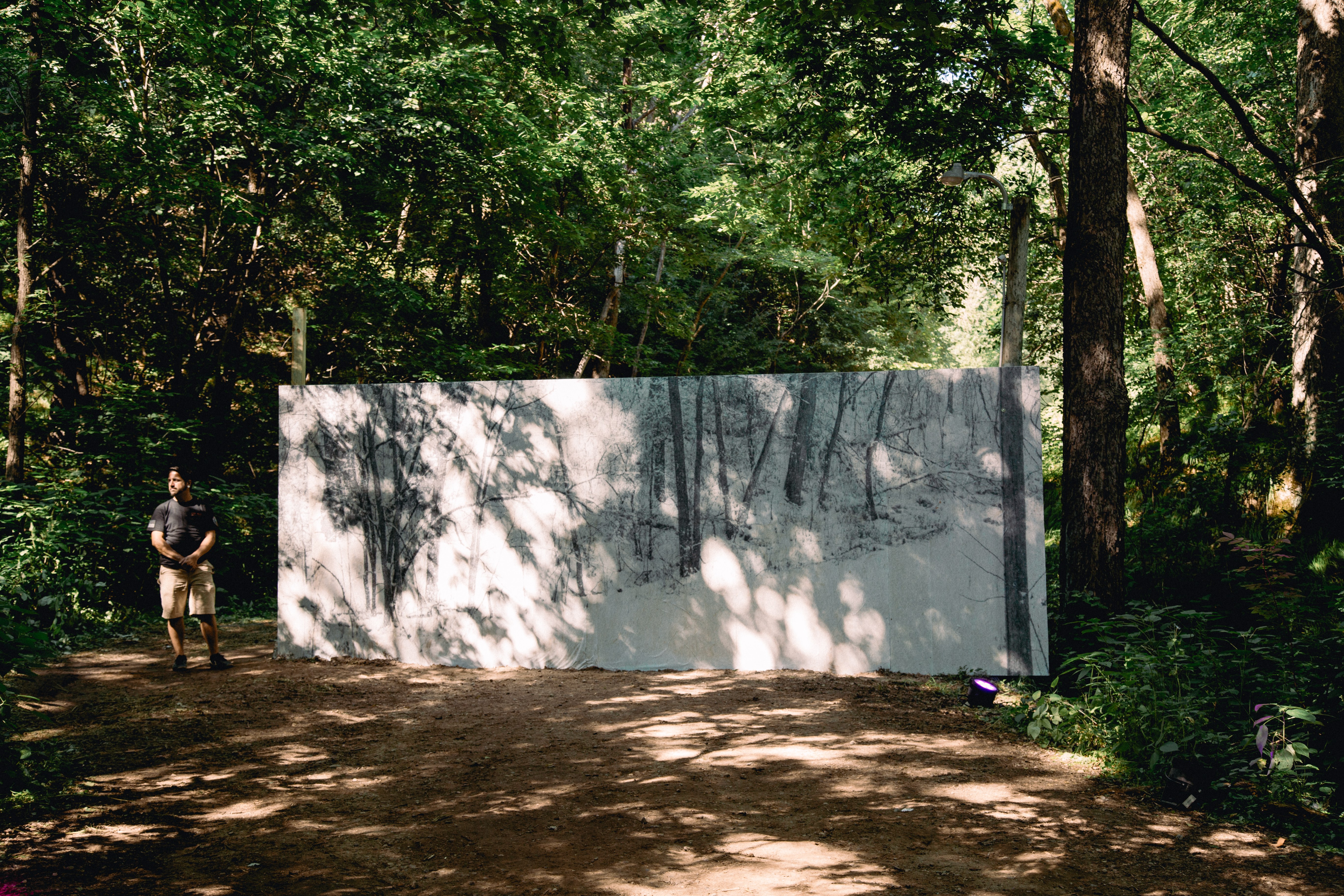 Photo Christopher Bartlett

——— If there wasn't enough wheatepaste involved with this festival, we installed two art pieces entitled "Winter is Here" on the festival grounds. We overlayed photos of the path on plywood, so it looked like a frame into the wintertime. Like you could keep walking, through that portal, into the winter.



Photo Unknown

——— The smaller of the two walls actually included a functional door in the middle of the piece. At certain times, festival goers could sneak through and attend an unofficial dance party on the edge of the grounds (but you didn't hear it from me).